DIGITAL TRANSFORMATION
Introducing DSAPPS Platform for Digital Transformation. Helps enterprises transform for the future implementing the latest digital computing technologies to:
Enhance internal and external processes making them faster and more efficient.
Update data/computing architectures improving performance and security.
Re-engineer business models preparing the enterprise to serve stakeholders better for the future.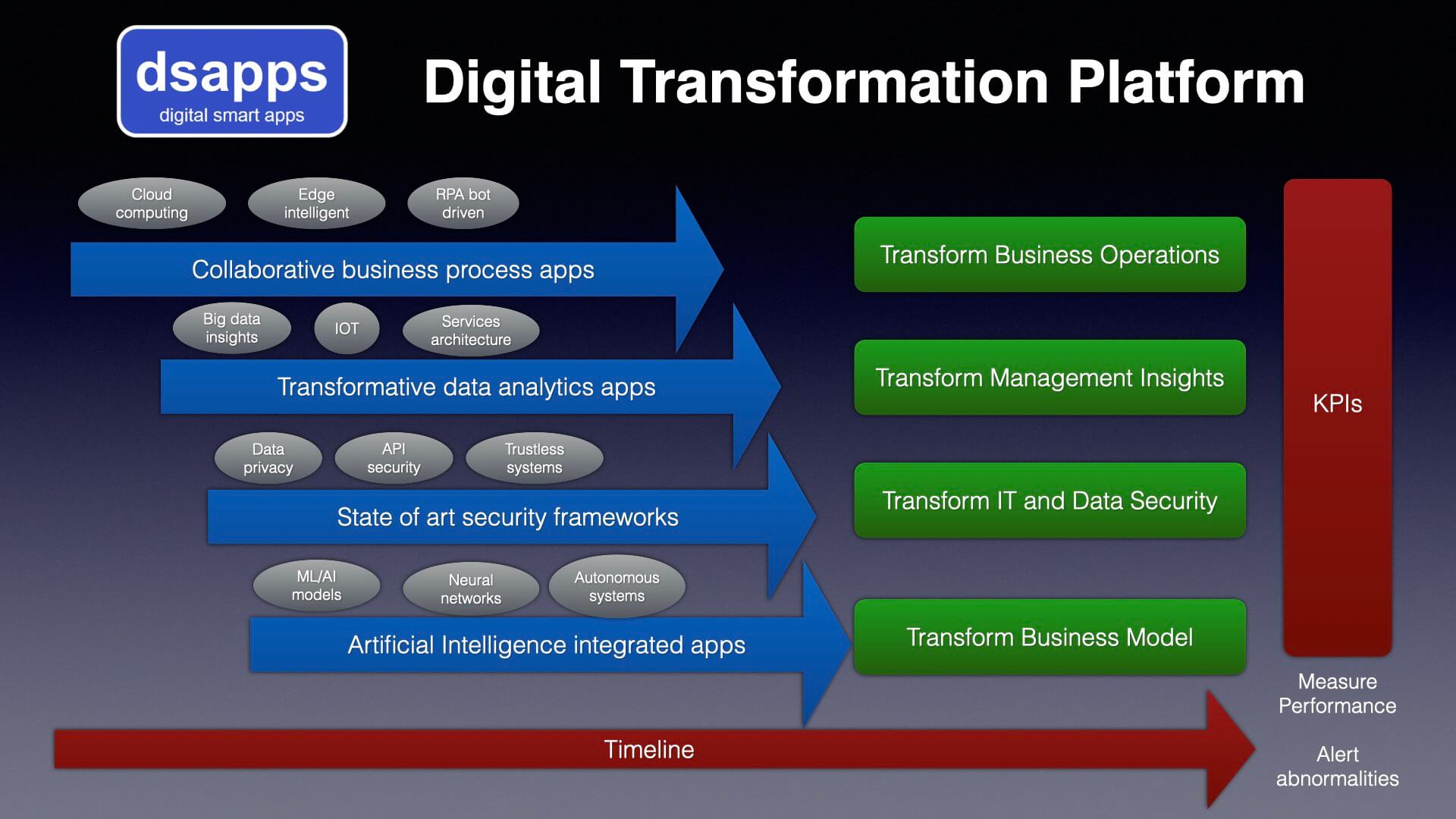 DSAPPS Digital Transformation Platform allows enterprises to focus on key areas that really matter offering functionality to:
Track digital transformation with concrete project milestones, support team collaboration and help to resolve key issues.
Provide visual dashboards to track key performance indicators tracking success.
Remain vendor agnostic, allows enterprises to tailor digital transformation templates
Established in 1995 DSAPPS has been designing and implementing smart apps supporting every facet of digital transformation - rapid process automation, team collaboration, data security, api security, distributed iot, smart city solutions, ML and AI enabled apps.
Our customers include State and City Government as well as large and small business enterprises. Our Fortune 100 customers have included companies like Cisco, Genentech, HP, Fujitsu etc where we implemented numerous business process automation solutions. We also supported a number of high tech start-ups.
In 2009 DSAPPS as a vendor partner with HP Labs helped HP win the Edelman award in Management sciences with a product portfolio management solution saving HP over $500 Million.
In 2018 DSAPPS was qualified and selected by City of Los Angeles Department of Transportation (LADOT) Innovation department as a Transportation Technology Services Contractor for working on next generation smart city technologies.
Currently in 2020 our focus is in building disruptive artificial intelligence apps for enterprises, leveraging technology break-throughs in neural network computations. Our innovations include asset management automation using AI technologies - providing ease in setup and eliminating tedious manual tasks.
---